Keep Your Child Active And Engaged With Our 2019 Summer Camps!
Don't let your child slip into the habits of inactivity and excessive screen time this summer. Join us at Azad's Martial Arts Center in Chico and treat your child to the challenging and exciting world of our Martial Arts Summer Camps!
We're proud to work with students of all ages across our community, building skills like discipline, respect, and lifelong habits of physical activity.
Reserve your child's spot before it's too late! Just fill out the short form on your screen to get started today!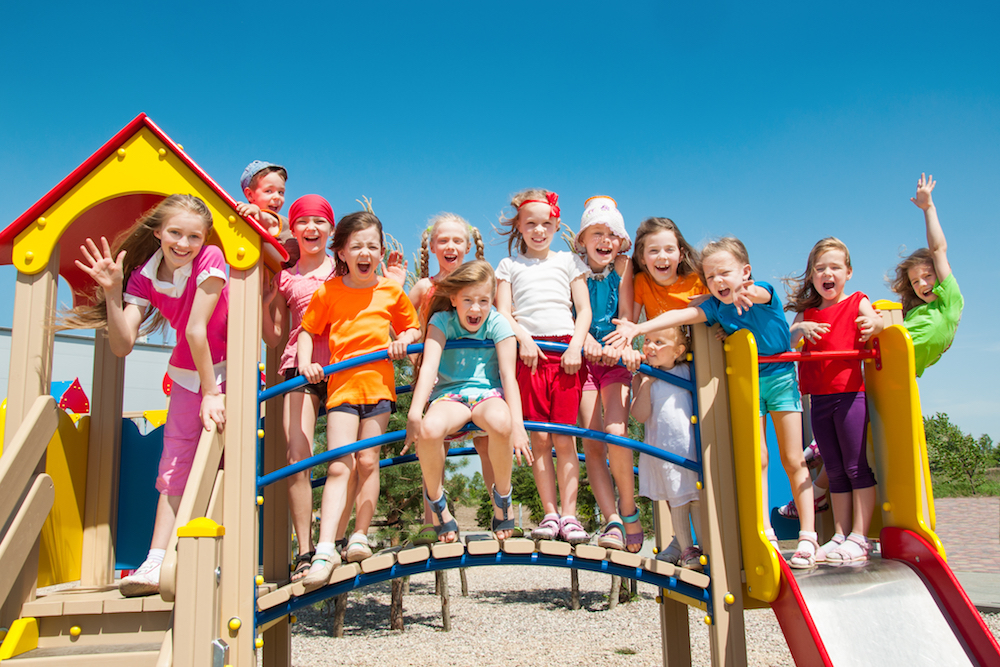 What Can You Expect From Our 2019 Summer Camps In Chico?
We train students of all ages and abilities at Azad's Martial Arts Center and our Summer Camp programming is no different. Your child will enjoy high-quality martial arts training and a wide range of games and activities.
They'll be excited to come back day after day and make a great group of new friends in the process.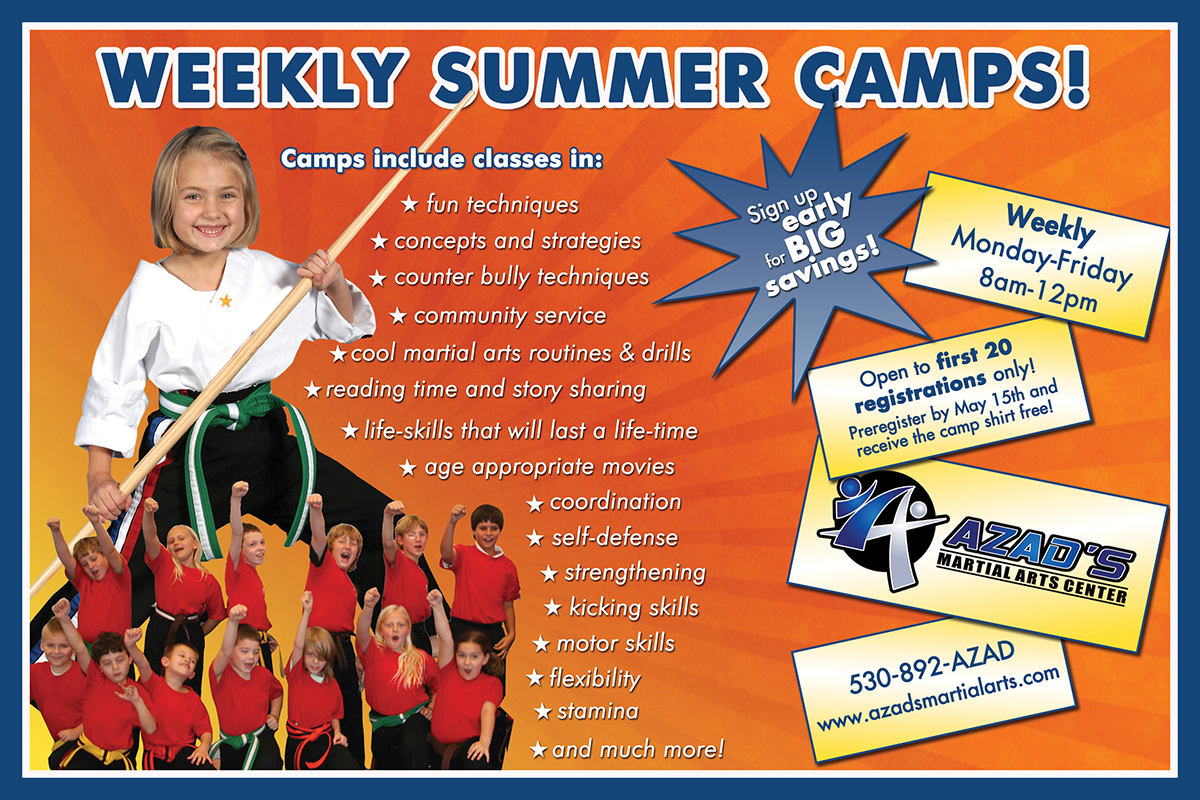 Our Summer Camps in Chico include:
Martial arts training for all experience levels
Indoor and outdoor activities
Hands-on instruction and supervised games
Team building exercises and challenges
Our Summer Camps are designed to stimulate your child's mind and help them develop important physical tools. With our training, your child can overcome anything life throws their way and benefit from incredible role models.
CAMP DATES:
June 10-14th - NERF CAMP
Azad's Martial Arts Camps are filled with tons of active fun. We find a way to keep kids moving. We lead a couple of structured martial arts classes each day that combines your child's fundamental physical skill material with a variety of martial arts movements and more. This is a very popular camp and the campers are allowed to bring their own Nerf Bow and Arrows and ammo. We will provide you with one if you don't have one. However, you must let us know ahead of time if you need one. Each day campers will learn a new life-skill and all the details of the topic as well as its application in the day to day life.
June 17-21st - NINJA CAMP
Ninja Camp is designed to challenge the campers in improving their skills, conditioning, concentration and fast thinking! Tons of fun when you become a Ninja Warrior jumping, crawling, disguising, camouflage, using the right strategies and weapons, as well as climbing and descending and the tumbling techniques onto the crash mats. Kids love our Ninja Warrior Camps and parents enjoy the safety and the show!
Our Ninja Warrior Camp will be a super fun event for all kids this summer!
June 24-28th - MAKE A MOVIE CAMP
Camps Azad's Martial Arts are first and foremost - A BLAST!!
We make everything fun and dynamic. Azad's week-long half-day martial arts summer camp is a unique training experience that will build self-esteem and teach valuable skills. The goal is to give the kids exposure to a wide range of martial arts techniques and even expose them to the art form of movie fight scene choreography.
Kids will learn a lot of fun choreographed movements by professionals in the field as well as acting and presentation skills.
This camp will help your child develop eye contact, public speaking skills, proper posture and voice to create a presence. Please make sure your campers bring their own snacks, food and drink to the camp every day.
July 8-12th - STAR WARS CAMP
Get ready for a lot of fun! Star Wars camp promises to be one of our most favorite ones this summer. Campers will have a session or two each day training in a variety of traditional martial arts weapons (safe foam-covered weapons unless in the Junior or Teens program) to develop the skills mastered only by Luke Skywalker! Sabers, Long Bo, Short Staff and more will be taught to all Jedi apprentices by Jedi Masters!
July 15-19th - OLYMPIC ATHLETES CAMP
The goal of this camp is to build the martial art athlete. Aside from following Azad's famous training programs, we will invest time in enhancing each child's character, sportsmanship, athletic intellect, knowledge, and leadership skills.
All those who improve dramatically will earn a prize for their accomplishments. Olympic Athletes Camp will get your child in the spirit of learning and fun physical exercises every day.
Please make sure your campers bring their own snacks, food and drink to the camp every day.
July 22-26th - NERF CAMP
Stay tuned for more info very soon!
Reserve Your Summer Camp Spot!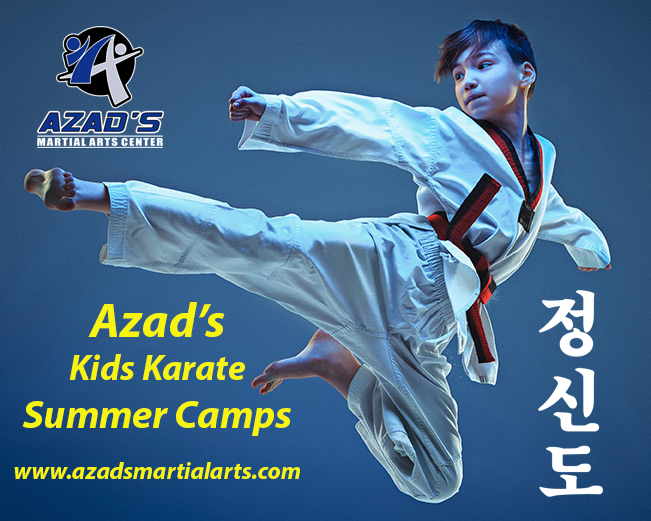 Sign Your Child Up Today For The Best Summer Camps In Chico!
Don't wait until it's too late. Our Summer Camps in Chico are filling up fast. Give your child an exciting way to spend the summer and learn incredible martial arts skills.
We offer family friendly pricing and instruction for all skills and abilities. Join us at Azad's Martial Arts Center today by simply filling out the short form on your screen now!
Reserve Your Summer Camp Spot!
Follow us and Leave a Review below: