Personal Self Defense Training Classes in Orland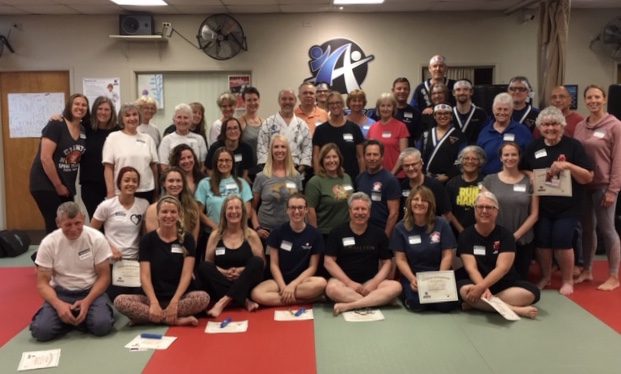 Azad's Martial Arts Center is offering a series of self-defense classes for adults in our community called Personal Defense Training (PDT). PDT is designed to make students more aware, prepared, and ready for any hostile situation anywhere. No prior experience is needed and there is no age limit for adults.
Please fill out the form at the bottom of this page and submit it for us to reserve your space. Personal Defense Training (PDT) sessions are incredibly popular and we suggest for you to reserve your spot well ahead of time. Our staff will be in touch very soon to schedule you for the next available session via email and/or a phone call.
Personal Defense Training PDT seminars are offered during designated weekends on specific Saturdays 10am-1pm at our Self-Defense Headquarters in Chico California. You may choose from any of the available dates as you fill out the PDT registration form below.
Azad's Martial Arts Center provides specialized seminars for small businesses, groups (i.e. church groups), organizations, corporations and public sector designed for the need of your team. Our PDT team travels and holds specialized self-defense and personal defense seminars in different cities and countries. For more information, or to schedule a PDT seminar in your town please contact us at PDT@AzadsMartialArts.com.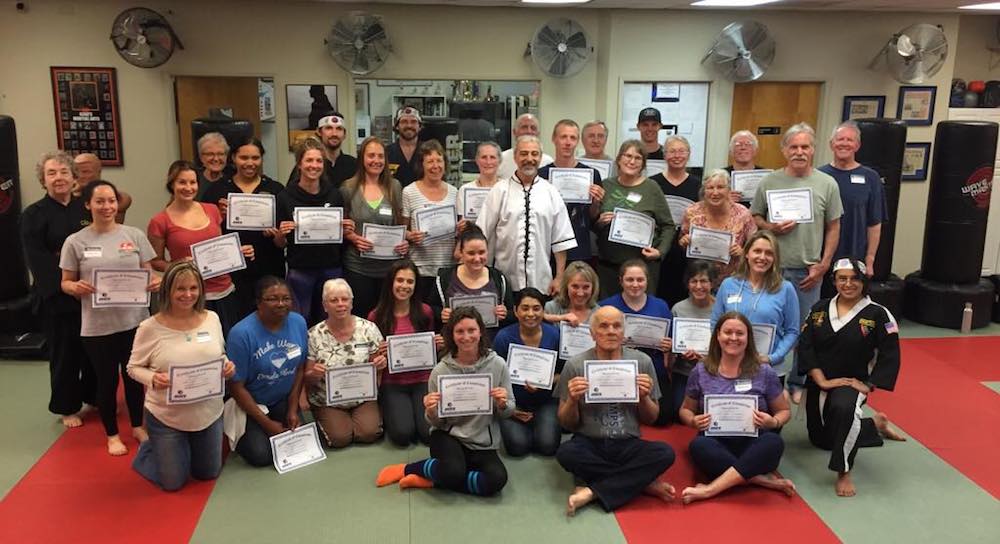 PDT is entirely FREE for first-time attendees and is open to the general public.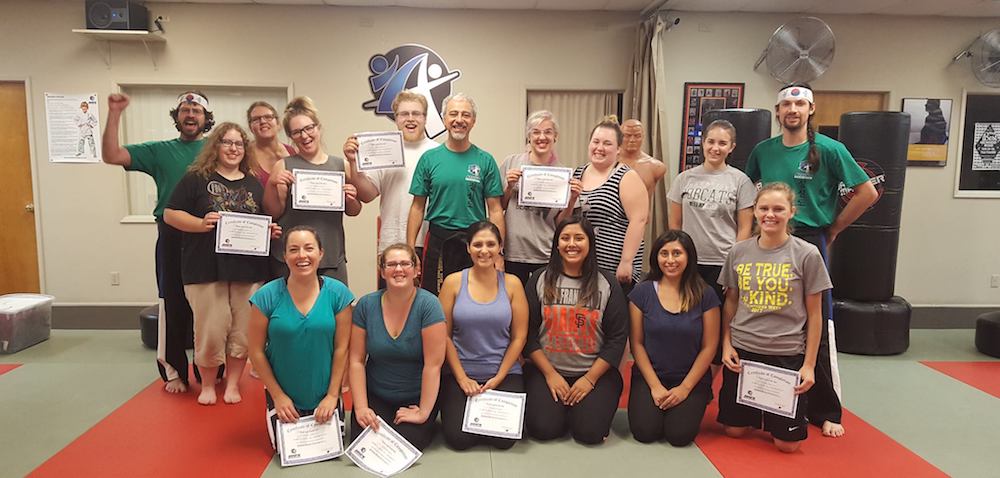 PDT will address basic defense against common attacks!
You will learn:
Cutting edge personal safety tips for men and women known as Safety Awareness Skills (SAS).
The single most important step you must take to handle an attacker.
The fastest get-away techniques for any type of grab or hold.
Ten most effective disabling targets you must know.
Six defensive skills that can make a life or death difference when under attack.
No nonsense, simple, street-proven techniques you must know.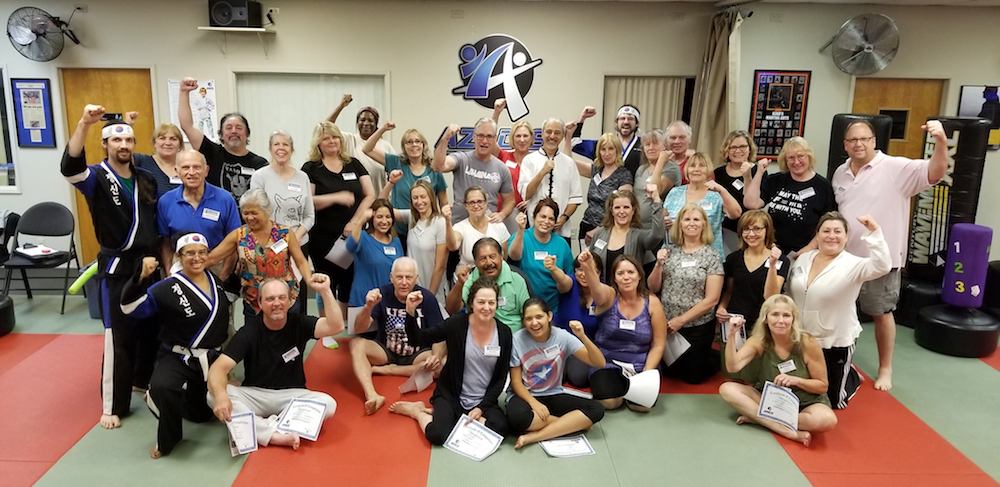 What are people say about Personal Defense Training and Azad's Martial Arts Center?
"I gained confidence in my knowledge to read situations where my person would be in danger, I gained confidence in know what to read in another person's voice, behavior, space and distance between us. [I feel confident] to respond to step away, defuse or respond to be loud and quickly, correctly use my hands, elbows to defend myself. I have highly recommended this PDT course to many of my friends already for the [next] session. I have told them not to be intimidated by the idea of being trained by the Grandmaster. The Grandmaster has a very warm, open, caring energy and he welcomes us to this training because he cares that we be safe. My level of personal confidence has greatly increased. I discovered that not only do I have the ability to Hit to protect myself or my child BUT I discovered thatI have the confidence to speak up to defend myself or my child. This is a level of confidence gained in just 3 classes! I have recommended this course to 4 female friends that have spoken to me of their fear and concerns for their personal safety. I feel this class would greatly empower them in their self-confidence to read a dangerous situation, in their personal safety and their boundaries." - Elizabeth B.
"Grandmaster Azad and the Personal Defense Training (PDT) is the most rewarding class I've ever taken!" - Carolyn S.
"[I have learned so much including] learning how to get out of troubling situations, both mental and physical, also felt better physically and into shape, so to speak." - Diane M.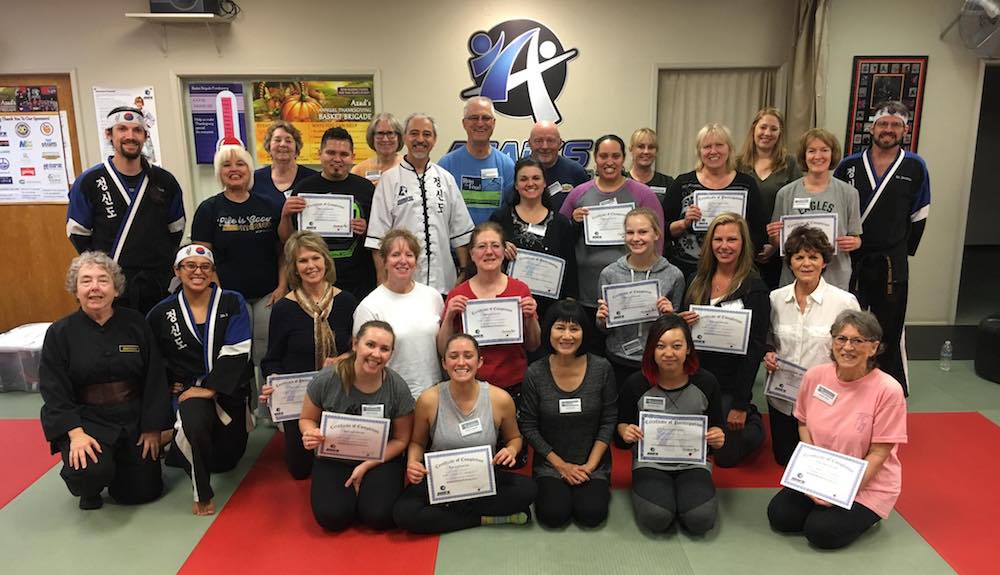 "[Amazing] opportunity to learn from a Grandmaster. Well supported by a great staff. Great beginning on route to self-awareness and defense if needed. Thank you so much for your dedication to making our community safer. Really appreciated your teaching style, and ability to bring humor to a very serious subject. Much respect for your skills, such amazing speed, and accuracy!" - Rob E.
"It [PDT] has given me more self confidence when I am in a situation where I could be in harms way." - Rose J.
"I didn't have any previous training and knew that this would be a very information and specific training in self-defense. The class was extremely helpful and Grandmaster taught it in a way that was easy to understand and techniques taught were one that I can use if needed." - Becky D.
"I just want to thank you for your very generous contribution to the safety of would be victims of assault. You gave me the confidence and knowledge of some very useful moves to protect myself in this time in my life. Knowing I don't need much force puts my mind at ease if some big thug decides to mess with me. This is why I decided to sign up for this class and I am so thankful I did. You and your staff are such great people and it saddens me and others that our training ended. You offer a much-needed service against crime. Hopefully, there will be much fewer victimizations in Chico and perpetrators will think before trying to attack a student of PDT." - Roxanne W.
"Many people I have spoken with are afraid of hurting someone. I let them know that Personal Defense Training (PDT) is not about being the aggressor. PDT is about increased awareness, skills, and techniques available to get to safety and if it is necessary how to respond to aggression. I encourage everyone I encounter (male or female) to sign up for PDT. I explain the awareness, comfort and confidence PDT instills. For those who say they are too busy, I tell them that their personal safety is worth making time for. The humor during the training was enjoyable, and the time with your assistants was quite valuable. Grandmasters stories provided history and validation for techniques learned. Grandmaster Azad - Thank You! Thank You for sharing your time and skills, and for providing this valuable training to the community." - Judy L.
"I would recommend [Azad's Martial Arts Center] the pdt program to everyone I know. I think the message everyone at azads is putting out for all the residents is awesome. They are not teaching you how to be the aggressor which other places might do. They teach you how to defend your self and others. I want to thank you for accepting me into your pdt class. I have learned alot and now feel safer going out with my children, which means the world." - Travis A.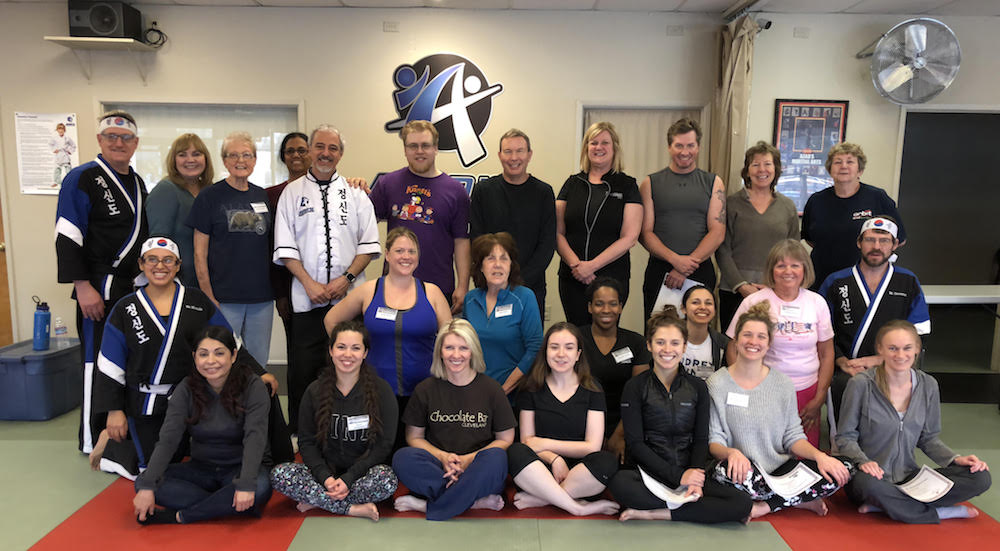 "I really enjoyed the class, and wanted to express my appreciation for being given the opportunity to participate. Thank you [Grandmaster Azad] so much for donating the time and effort to make this class possible, the sessions I was able to participate in have already made me feel safer and more able to defend myself and my family. After these classes I feel confident that I would be able to get out of a dangerous situation. I feel I am more aware of my surroundings in all aspects of my life." - Lorraine J.
"Training in Personal Defense Training (PDT) could save your life and the classes are very comfortable but you learn a lot. They are for people of all levels. I feel like I learned invaluable skills and that they are skills anyone can master. There is no reason we all should not take advantage of the access to these excellent tactics. I just want to thank him deeply. This class opened my eyes and may save my life one day. Thank you for offering it for free. I will definitely be recommending this class to everyone I know!" - Melisa A.
Upon signing up, You will be contacted by email with session availability and program information.
PDT is Supported by the following Local Organizations:
Chico Police Department | Office of Diversity & Inclusion at Chico State | Butte College Safe Places | Stonewall Alliance Center | Catalyst Domestic Violence Services | North Valley Community Foundation | Chico Unified School District | Azad's Martial Arts Family Center | Mix 95.1 | 103.5 The Blaze | News-Talk 1290 KPAY | Radio Mexico 97.7 KHHZ | Deer Creek Broadcasting | Chico Enterprise Record | CBS TV12 | NBC TV24 | The CW | Telemundo | Action News Now | Chico Unified School District | Butte County Sheriff | Safe Place | Downtown Chico Business Association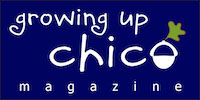 Follow us and Leave a Review below: