Give Your Child The Tools For Long-Term Success
At Azad's Martial Arts Center, we understand how important it is for children to have activities that help them grow both physically and emotionally.
That is why we've been able to help countless individuals from all across Chico to get a head start on life. Regardless of age or ability level, each student is challenged to give it their all and to learn new self-defense skills and valuable life lessons.
Ready to get started? Simply fill out the short form on your screen!
What is Jongshindo?
Jongshindo is a strategically blended system of martial arts designed by Grandmaster Azad to include physical, mental, and spiritual character-building.
Jongshindo combines stand-up systems (e.g. Karate and Kickboxing), grappling martial arts (e.g. Jujitsu), traditional weapons (e.g. Kobudo, Escrima), throwing arts (e.g. Judo), and internal schools that focus on inner strength (e.g. Tai Chi).
"We guide students to face their fears and take positive steps toward their dreams," says Grandmaster Azad.
As part of this full-body workout, your child will develop:
Strength
Flexibility
Coordination
Stamina
Endurance
and so much more!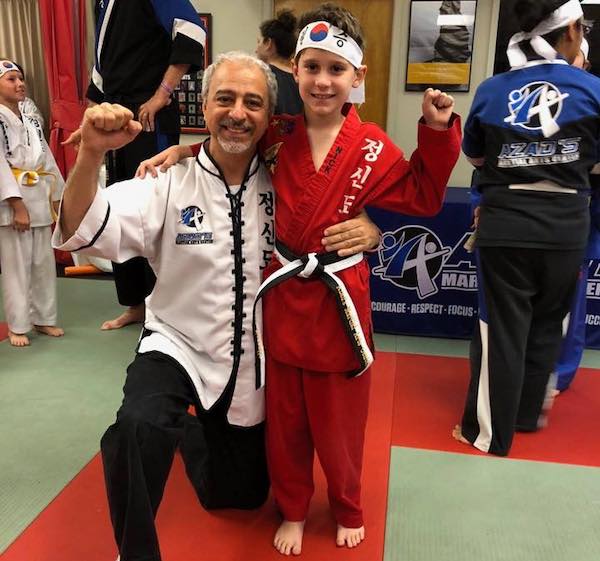 PLUS, Jongshindo Will Help Your Child Flex Their Mental Muscle Too!
Azad's lessons help kids concentrate, follow directions, and develop constructive thinking patterns in all areas of life.
Not only that, but our skilled instructors give students the responsibility to listen carefully and act accordingly. By doing so, kids develop discipline, focus, and follow-through that naturally translates to their home-life and in school.
Jonghindo also cultivates confidence, modesty, and mindfulness. Instead of seeking fights, Azad's students learn to control their emotions, de-escalate, and use non-violent conflict resolution techniques.
Since enrolling at Azad's in May 2018, Colton Burkett has "changed leaps and bounds," according to his mother, Alisha. "He wasn't a bad kid before, but there were some behavior issues I couldn't fix. His body has changed a lot, but he has also gained respect [for others] at home. He doesn't fight when he is asked to do something and he has gained confidence. He wasn't exactly afraid before, but he's truly bold now."
Don't Miss Out On This Life-Changing Opportunity
Over 10,000 students of all ages, abilities, and backgrounds have trained with Grandmaster Azad since 1985. Our system brings out the best in students, from developing physical strength and stamina to establishing self-confidence and respect for others.
Over the years, Grandmaster Azad has seen how confidence gives people the power to be kind. By building students' confidence from the inside out, Jonghindo at Azad's makes the world kinder, one student at a time.
Ready to get started? Just fill out the form on your screen!