Kickstart Your Fall With Our Fall Special!
At Azad's Martial Arts Center, we're proud to host people of all ages and abilities from across the Chico community, and we're excited to offer you a special offer like no other this fall!
Our Fall Special packs a big punch!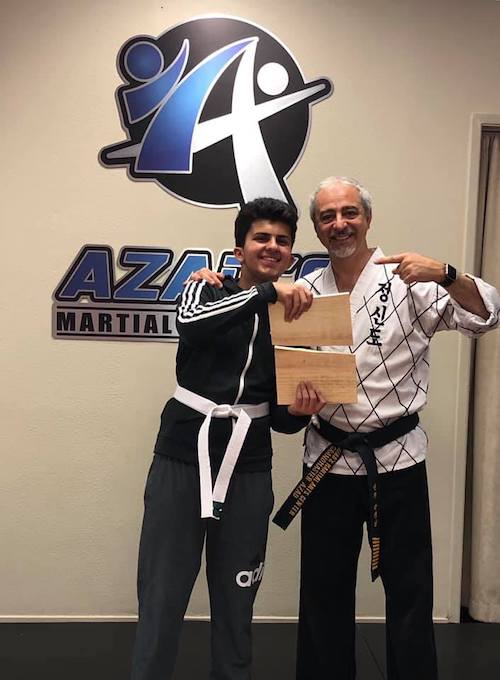 Reserve Your Spot in One of Our Fall Sessions at Azad's Chico Martial Arts!
When you sign up for our Fall Special, you will receive:
Four weeks of exciting and fun martial arts lessons (for your age group and program),
Two FREE private lessons
First belt exam included
for ONLY $95!
Don't Wait! Limited Space!
Adult Sessions:
Now that the kids are gone to school and summer is over, it is time for you to take care of you and make sure you get in a great physical fitness shape and maintain your excellent health. As adults, we are all very busy with life, family, work and all sorts of obligations we have got ourselves into.

Usually, we are the last one on the list of your own priorities, especially if you are a parent! You feel as though you got to take care of everyone and everything else before your name shows up on your own list of priorities. By then, you are so exhausted that there is no more energy left in you. Does this sound familiar? If so, we need to talk!

You have to stop this pattern and prioritize your health and stress levels now! Many adults feel like they have to wait to get in shape before they start up an exercise routine, or when the kids are off in summer they will plan a fitness schedule, or during holidays they will start thinking about eating well, or when their work gets less demanding they will train - and all kinds of the other excuses.

Your health, fitness, and safety are of utmost importance to you and your loved ones. Unless you Make the Time to get fit, it won't happen! We have seen this pattern since Azad's Martial Arts Center has been in operation in 1985. Your active commitment to your health in a great well-rounded program at Azad's Martial Arts Center will keep you engaged, motivated, on schedule, and on your way to better health! Our instructors will make sure you to reach the goals you set for yourself and have fun doing it. We will never give up on you and make sure to help you reduce and manage your stress through our martial arts Jongshindo programs.

Our adult's martial arts training is second to none. You will learn all aspects of living a healthier life mentally, physically and spiritually. Our specialized curriculum at Azad's teaches you the scientific way of stretching, strengthening, and building endurance while enhancing your balance, coordination, and abilities. You will develop a stronger sense of self-confidence, concentration, awareness, and overall happiness while learning effective no-nonsense self-defense skills that last you a lifetime. Our friendly atmosphere and knowledgeable, caring black belt instructors will teach you what you need to know to reach your physical and personal goals in a wonderfully patient and enthusiastic manner.

The journey of a thousand miles starts with you taking the first step! Just schedule your first appointment and we will take it from there. We will team up with you and help you increase your energy, enthusiasm, discipline, and reduce the internal environment's stresses together with you.

Take advantage of our Fall Special and begin the first step to your personal safety and the great shape you deserve to be in! Fill out the inquiry form below and we will contact you right away.

Kids Sessions:

Azad's children's programs accept kids as young as age 3. Young children must be potty trained and evaluated prior to enrollment. All our kid's programs are hinged on life-skills, positive mental attitude, and fun fitness as well as effective age-appropriate conflict-resolution and self-defense skills. We love to see our students succeed in all aspects of life with Respect, Courage, and Compassion!

From the first class, our goal is to make sure to have your child develop a positive experience in not just developing martial arts (Jongshindo) and self-defense skills, but to enhance your child's love of developing good habits that leads to their success all throughout life.

Each program has its own curriculum. Each curriculum is explained patiently and enthusiastically to children of all ages and abilities. Each lesson builds on the previous lessons. We measure student's success by helping each child develop strong work ethics to earn their rank designated by various colors of belts. We are a black belt school and our aim is to assist children in earning their black belt. A belt is simply a measure of a student's success in comprehending that level's curriculum as well as accomplishments in their home and school life.

Our adult instructors are successful men and women in their fields who have fallen in love not only with martial arts (Jongshindo) but also with sharing that information as teachers.

Please take a few seconds to fill out the form on this website and submit it. We will be in touch very soon to start you and/or your child up at Azad's Martial Arts Center's fitness and self defense program of your choice!