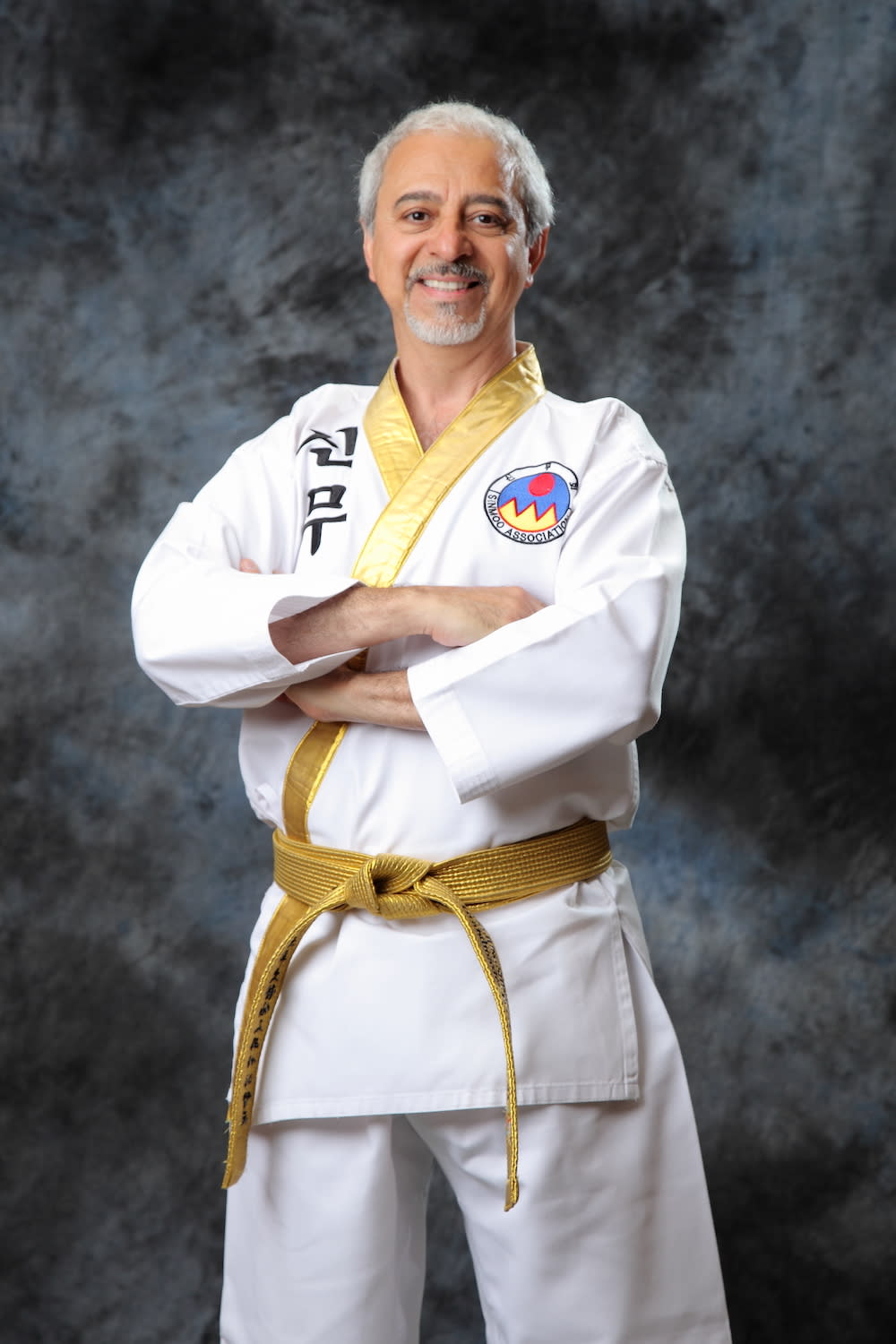 Grandmaster Azad
Recipient of two Hall of Fame Awards, as the Martial Arts Master of the Year, and a martial artist for over 40 years Farshad Azad is a Grandmaster of various systems of martial arts. Often referred to by his Chinese martial arts title Sifu, Grandmaster Azad is the Founder of two systems of martial arts known as Jong Shin Do, and Shimkendo. Among his highest martial arts ranks are a 10th Degree Black Belt in Shaolin Tai Chi Chuan and a successor to the Great Grandmaster Vavallette, as well as a 9th Degree Black Belt in the art of Sinmoo Hapkido under the Founder of the art of Sinmoo and Hapkido, the Great Grandmaster Ji Han Jae.
In early 1990's he was promoted to Senior Master rank in multiple styles of Korean martial arts system of Taekwondo. He holds a Master rank in the Filipino fighting art of Modern Arnis under the Great Grandmaster Remy Presas, and Korean system of Jungsuwon under the Great Grandmaster Tae Yun Kim, with proficiency in a variety of Okinawan, Japanese, Chinese, South East Asian Arts, Kobudo, Full Contact Kickboxing, Kali, and Muay Thai Kickboxing.
An advance instructor with International reputation for teaching effective martial arts applications, martial arts philosophy, history and knowledge Grandmaster Azad has shared his passion for the arts with , as well as executive protection and personal safety, Mr. Azad has taught members of law enforcement community for several decades. Grandmaster Azad believes that all martial artists are members of one family regardless of their styles and abilities.
Grandmaster Azad has taught and shared his knowledge with thousands of martial arts enthusiasts, black belts, and masters around the world.
At an early age Farshad Azad began learning martial arts privately from a martial arts master. As the only student of his Master, he learned the ways of protecting himself rapidly against others. He soon learned the philosophy of becoming a stronger person by developing his mind and spirit along with the physical body and using his newly acquired power and skills to actually bring more peace between his friends. His passion for martial arts grew rapidly as his martial arts training positively impacted his school work and his general success in life. From early on he learned to keep an open mind in martial arts and in life not only as a sign of respect to various martial arts systems and instructors but as a way to live his life. He continued training aggressively until Farshad had to relocate to Lawrence, Kansas to continue his pursuit of higher education. He continued his martial arts studies in the old and new systems of martial arts as he trained many folks along the way including members of the university's football team. That is when he started diversifying his knowledge of martial arts even more by training in various arts at the same time.
By the time he received his Bachelor of Arts from the University of Kansas (KU) he was a well accomplished martial arts instructor in various disciplines as well as a seasoned fighter and competitor in Midwest area of United States of America. His education took him to California where he received his Masters Degree and became a member of the lecturer/faculty of the California State University, Chico. In that capacity, he created the first Korean Martial Arts Club and the martial arts curriculum for the Kinesiology Department where he teaches as a lecturer and faculty member.
Farshad Azad is also the founder of Shimkendo, an internal system of martial arts designed much like Tai Chi to restore the energy of the body to a strong state for adult students of all ages, and backgrounds. Grandmaster's oldest student is 108 years old. Azad created the art to help adults, especially seniors to overcome mental, emotional and physical barriers to further develop better health and quality of life. He developed this art based on years of studying healing arts from Japan, China, Korea, Middle East, Africa, South East Asia and Native cultures of America. The arts credibility is entirely self-spoken as it has restored health and rejuvenated the lives of so many all around the world.
Grandmaster Azad is the founder of Realistic Defensive Tactics (RDT) which was designed and developed over many years to teach tactical and technical knowledge to personal protection, executive protection experts, law enforcement, air marshals, drug enforcement agents, and security personnel. Mr. Azad is also the founder and the director of U.S.A. Kardio-Kickboxing Center and Certification program. This certification course is designed to teach athletes and personal trainers to develop appropriate techniques and abilities for training folks toward their personal health goals by using martial arts techniques.
Sifu Azad also holds Master Instructor ranks in the following systems developed and certified personally by Master Tom Patier:
Law Enforcement Survival Systems
Family Protection Systems
Know & Go Self Defense For Children
Training For Life
Last Resort Tactics, Deadly Force
Last Resort Weapon Disarms, Counter-Terrorism
C.D.T. (Compliance, Direction, Takedown) Non-Deadly Force